There is a general rule that applies to all paints, whether for bicycles or for cars or motorcycles.
The general rule says:
If your nail is scratched on the scratch, then painting is inevitable.
This rule is 99% correct.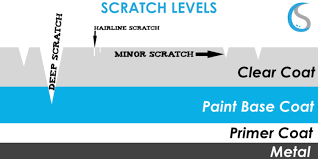 There are few cases where this can be done and the scratch can be corrected with a polish.
There are many cases where the nail may not be very scaly, however, due to the fact that the varnish is too small in thickness, you will not be able to avoid re-painting.
The type of repainting and the options we have will be seen in another short article.